I have wanted matching Christmas stockings for what seems like forever. You would think that would be an easy update, but I was hesitant to make the change because I'm sentimental and I really love a momento-filled Christmas.
My mom bought each of my kids a Christmas stocking when they were born and put their names on them herself. Unfortunately, they didn't match the image I had in mind for my mantle. Even so, I had a hard time with the idea of not using them because they mean a lot to me.
Still, I really wanted matching stockings while keeping a family and homey feeling mantel. I solved my dilemma by deciding that we will still use the stockings from my mom on Christmas eve and will set them out for Santa with cookies and milk, but for decorative purposes, we now have a matched set!
They are now hanging proudly on what I call my "memory-filled" mantel.
I will show you how I made them on Friday, when I co-host the Winter Wonders & Holiday Happenings Link party: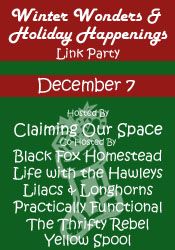 Until then, I'm going to show you a few more shots of my mantel and my new stockings.
It still feels family and homey to me with my new little burlap stockings -- as I mentioned in my post about
Christmas decor around my house
, I like to tuck pictures of my kids or our whole family from Christmases past into the garland on the mantel. It's always fun to see how the kids have grown, how they were crying on Santa's lap, or see where we went as a family for a holiday outing.
I just bought the same ornament frame from Pottery Barn that I bought last year (it's the one on the left in the picture above). I especially like it because the year is engraved on it, which is nice.
The picture below always makes me giggle. My daughter is terrified of Santa!
The silver reindeer, below, was a wedding gift from good friends of ours. He's really a candle holder, except he's not carrying a candle this year. I get lazy like that sometimes!
I would like to make this new look even more family-feeling by getting the stockings monogrammed or personalized but that will have to be another day.
Until then, I'm pretty happy with how my mantel looks this year!
Nothing too fancy.
How is your holiday decorating coming along?